Honea Path
Downtown Yard Sale
Saturday... May 12
---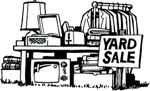 On Saturday May 12th from 8:00 a.m. until... there will be a town wide street sale on North Main Street downtown district.

It's like a giant yard sale but includes the whole town in one location. The cost is FREE and their are no set up fees or permits needed. So, if you have been thinking of having a yard sale, come on down and join us in the fun.

Bring your items to the Main Street event. If you have any questions please feel free to call 369-0150 B&R Books or Renae McCall @ 369-7004 for more info.