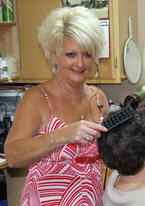 Sheila's Hair Cottage has over 30 years of experience in the Barber & Beauty Industry. Including a family history in this field. My mother, 6 uncles and grandfather were also licensed and trained in their respective fields.. We are trying to continue this family tradition, as my daughter, Hillary, works in the salon with me now.

Licensed in cosmetology and barbering with the latest cuts for men, women & children. We offer many aspects including color, perms, foils,
Grund
hair
straightening system, eyebrow waxing, Tanning, ear piercing, and updo's for weddings and proms.

All the aspects of a barber shop are available for men also. Including regular clipper cuts, high & tight, flat tops & beard shaping.

We offer a wide variety of professional hair care products such as
Redken
,
Kenra
,
Grand
,
Tigi
,
Big Sexy
,
Graham Webb
7
,
Sukesha
.
We offer manicures, pedicures, and acrylic nails.
---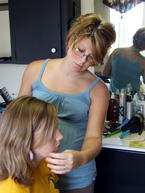 Hillary Smith (Stylist, Manicures and Pedicures ) 3 years of service
---
Cuts, Color, Frosting, Perms, Manicure, Pedicures, Acrylic Nails, Ear piercing & Hot wax. We also have: Tanning Beds, Spar Pedicure Chair and Grund hair straightening system.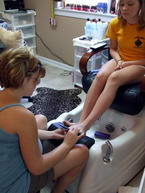 Pedicures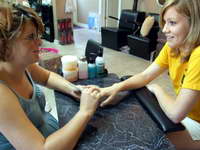 Manicures